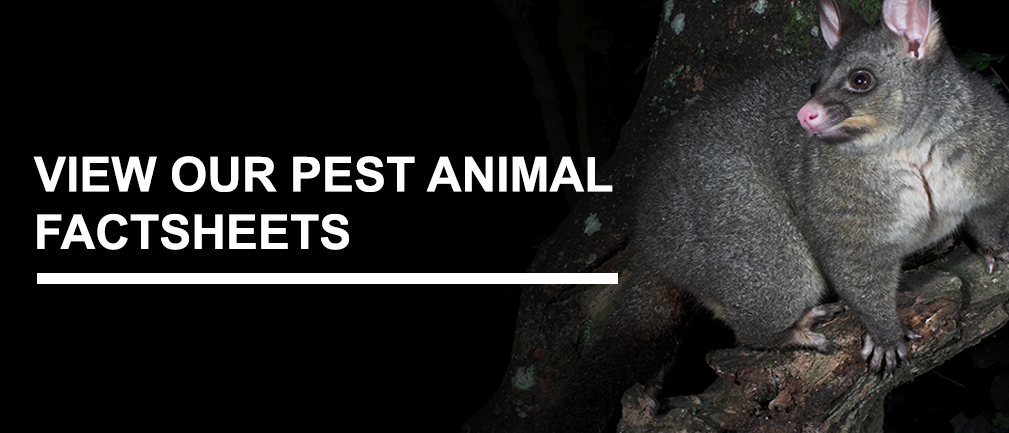 Animal pests in the Waikato region
Animal pests threaten our region's native ecosystems, such as forests and wetlands, including the plants, birds, insects and other wildlife that live in them. Many animal pests are also a nuisance to farmers, in suburban gardens and businesses. Pest fish also affect our waterways, such as lakes and rivers. It's important that we control animal pests and stop them from spreading. This section has lots of information about animal pests, or classes of pests, managed in the Waikato region.
Waikato Regional Council carries out specific direct control work (using accredited contractors) to:
enhance native vegetation on private land
reduce the economic effects of pests, for example,when rooks eat newly sprouting maize crops.
maintain the gains of previous Animal Health Board operation areas.
In most cases, responsibility for animal pest control lies with the land owner/occupier.
Many of the above animal pests are included in the Regional Pest Management Plan, which also contains policy and control information.
How to get practical advice
Waikato Regional Council staff can provide practical advice on how to control pests. Contact us here.
Planning a pest control operation? Want to know how to go about it? A new tool developed by Landcare Research may be the best place to start. The Vertebrate Pest Control Decision Support System (DSS) provides the most appropriate control options in a particular locality.
Controlling possums
Waikato Regional Council undertakes possum control in order to:
protect our native forests from possum browse
protect our native wildlife, such as birds, lizards and invertebrates from predation by possums
reduce the risk of possums infected with bovine Tb (bovine tuberculosis) spreading the disease to livestock herds. Bovine Tb infected livestock affects our dairy and meat industry.
The Waikato Regional Council manages possums in a number of ways, including setting Priority Possum Control Areas (PPCAs).
Find out about our current Priority Possum Control Area operations (PPCA) here.
Statement of intent
Waikato Regional Council has adopted two statements of intent around our use of:
Further information
Need something else? Contact us!